Print coupon below for $25 off a Radon Air Test
Only one coupon per test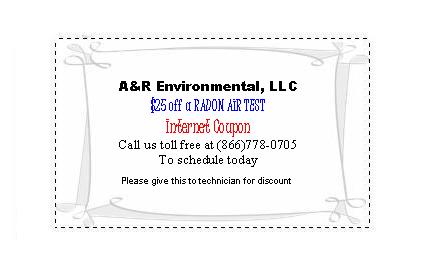 Print coupon below for $100 off an
Aeration Water System
Only one coupon per install

Costs for radon systems can vary greatly. With A&R Environmental, LLC you can be sure that we will install the best system at a fair price.

Our specialty is installing hidden air systems, but we won't charge you any more for garage or outside systems. Each system is designed specifically for your home's needs.

Our water systems will be designed to meet the removal needs of your particular well. Prices do vary according to the radon levels.

It is important to have a reputable and qualified company install a system for your home. Because of this, A&R Environmental will match any comptetitor's quote for a mitigation system. Our systems are competitively priced, but we don't want you to have to make the decision of cost over quality workmanship.

Please contact us to learn more about what goes into pricing a system that caters to the needs of your situation.

A&R Environmental
Radon Testing • Radon Mitigation
228 Long Hill Road, Andover, CT 06232
(860) 742-6767 * Fax (860) 742-0103
Toll Free (866)778-0705